Sainte-Croix en Diois - Die
Practical info
Distance : 9.0km
Time : 3h
Elevation uphill : + 191m
Elevation downhill : - 149m
Weather forecast
Can't connect to huguenots.illicoweb.com:443
PONTAIX
A proximité du sentier se situe le pittoresque village de Pontaix, avec ses maisons baignées par les eaux de la Drôme, fut longtemps un point stratégique de la région. Le donjon surplombant le village et appartenant au château bâti vers 1200, contrôlait l'accès vers la haute vallée de la Drôme. Détruit partiellement au XVIe siècle, il en reste aujourd'hui un donjon éventré. L'ancienne chapelle du château (XIIIe), devenue temple réformé au XVIe siècle, est retournée au catholicisme du XVIIe à la Révolution, puis au protestantisme jusqu'à ce jour. On peut y admirer des fresques, un litre funéraire et une horloge ancienne. Son intérêt historique et artistique réclame la poursuite de sa restauration. En été, l'Association " Temple de Pontaix" organise des expositions, des conférences et des concerts. Elle entretient des relations avec les Musées et Lieux de Mémoire du Protestantisme, ainsi qu'avec les descendants Huguenots du
Diois en Allemagne. Tél visites : 04 75 21 20 22.
PONET ET SAINT-AUBAN
Ponet-et-Saint-Auban se trouve à 4 km de Die. Il s'étend de part et d'autre de la Drôme à la suite de la fusion des deux communes. Du château qui domina le village, seul un petit pan de mur reste visible. Une petite église catholique se situe sur le même plateau. Le temple (XIIe), l'ancienne chapelle du seigneur récupérée par les protestants lors du Concordat, se trouve en contrebas et fait l'objet, depuis quelques années d'une restauration. On peut y admirer des fresques du XVIIIe, un litre funéraire, une inscription protestante, une chaire transportable en noyer et les vitraux du verrier argentin Santi Chilibroste. En été, on y ccueille des expositions et des concerts. Tél. visites : 06 31 65 10 60.
SAINTE-CROIX EN DIOIS
Au pied des tours de Quint, le village de Sainte-Croix suit une ligne de faîte ascendante entre la vallée de la Drôme et la vallée de la Sûre. Au cours des XIIe et XIIIe siècles, un conflit oppose les évêques de Die et les comtes de Valentinois, des Poitiers pour la possession du château de Quint. A partir du XIIIe siècle, le château sera un bien des comtes de Valentinois. A la fin du XVIe siècle, les tours du château sont utilisées lors des guerres de religion et sont détruites sur ordre royal. L'église/temple située au centre du village est mentionnée dans les textes à partir de 1104. Vers 1805, sous Napoléon, grâce au Concordat, la nef fut accordée aux protestants, les catholiques conservant l'abside et le transept. Cela explique la présence des deux clochers. Le village présente une particularité. En 1863 s'installe ici la Mission du Diois qui devient en plein pays protestant, le centre d'un mouvement de reconquête catholique du Diois.
Attenant à l'église se situe le monastère. Au XIIIe siècle les moines de Saint-Antoine y fondent un hôpital où ils soignent grâce aux plantes et travaillent sur la maladie dite du "feu de Saint-Antoine", une intoxication par l'ergot du seigle. Incendié et pillé au XVIe siècle par les Huguenots, le monastère sera reconstruit entre 1648 et 1655. L'évêque de Die y installe le séminaire diocésain en 1689 et en 1778 la Commanderie est rattachée à l'ordre de Malte. Le monastère en voie de restauration est aujourd'hui un " Centre d'accueil international".

DIE
Des faits importants ont rythmé l'histoire de Die et du Diois, la Réforme en est un évènement majeur. En 1562, la grande majorité des Diois passe à la Réforme. Les guerres de religion sont alors particulièrement violentes. Die appartient tantôt aux protestants, tantôt aux catholiques. Les édifices religieux de la ville sont totalement ou partiellement détruits.
De 1604 à 1684, une académie protestante voit le jour à Die. On y enseigne le latin, le grec, l'hébreu, la rhétorique, la philosophie et la théologie. La ville accueille alors des étudiants et des maîtres de toute la France, de Suisse, d'Italie et d'Ecosse. Mais, avec la révocation de l'Edit de Nantes, s'ouvre l'ère des persécutions qui ne prendront fin qu'avec la Révolution.
Sources : Différents écrits de M. Henri Desaye.
Vous pouvez participer à la qualité de cette rubrique ! Merci d'alerter l'Office du tourisme de l'étape des données erronées que vous auriez constatées.
Tourist Offices
Accommodation Partners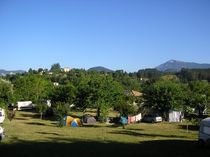 Le Riou Merle Camp Site 
Campsite
Die
The Riou Merle Camp site is 300 meters from Die town centre. Expect peace and quiet in nature, with view of the nearby mountains. Starting point of many hikes in the Parc du Vercors and its nature reserve.
Telephone : 04 75 22 21 31
lerioumerle@gmail.com
http://www.camping-lerioumerle-drome.com
Besset Laurent 
Bed & breakfast
Die
3 bed and breakfast accommodations and a studio in a typical town house in the centre of Die. Breakfast is shared with the host. Passionate about the Diois, he will be delighted to introduce you to the region's treasures. Preferably for two nights minimum.
Telephone : 04 75 22 06 28
Telephone : 07 89 29 20 08
laurent.besset@wanadoo.fr
https://chambredie.fr
Other Accommodations
Restaurants
Other Services